June 18, 2008 Sooke Fishing Report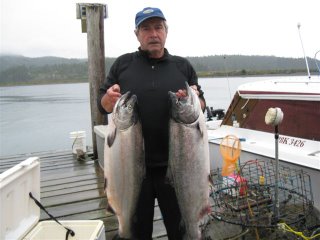 Sooke's fishing season has begun to take off -- even if the weather doesn't yet seem much like summer, the fishing has started to feel a bit more like it.
Mark at Footloose Fishing Charters reports catching several salmon in the 20s last week, right out front of Sooke Harbour, after just a few hours out on a flat calm morning. Nice! Earlier in the week, he also caught a nice halibut on salmon gear, off the Sooke Bluffs.
The Juan de Fuca derby was held last weekend. 82 salmon were weighed in, with the winning fish a 36.8 lb spring caught by Joe Kadar. 7 more were weighed in above 30 lbs. As usual, Sooke's waters delivered, with many of the fish
caught at Sooke fishing hotspots, in particular Secretary Island.
Time to hit the water and start chasing some Sooke salmon!