July 29 Sooke Fishing Report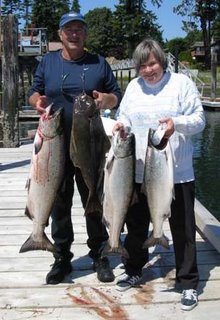 A fisherman from Washington caught a 50 pound salmon in Sooke today. WOW!
In general, fishing around Sooke continues to be spotty. There's a good day here and there, and the fish are around, but you have to work for them. It has been very WINDY, keeping many anglers off the water.
Mark and Sharon Price report a good haul last week, 3 chinooks up to 28 lbs, and a halibut caught off Otter Point area. Monday, Mark and Neil (from Salty Towers) caught this 32 lb spring and his little brother.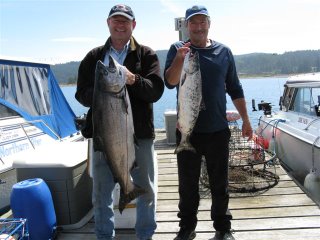 Sockeye fishing is open
in Sooke waters, max 4 per license per day.
Below is last week's report from the July 15 Sooke News Mirror:
Local sport– fishing update update
Published: July 15, 2008 5:00 PM
No records are being set but a handful of anglers have been finding success in local waters of late.
Eldon Smith at the Crab Shack keeps records of this kind of thing and he made notes of the following catches over the past week. The fish are salmon unless otherwise noted.
Dave Thistledew and Don Thompson hooked fish in the 31-pound range, near Possession Point, and Otter Point, respectively.
Aaron Cameron reeled in an 18 pounder off Possession Point. Brian LaCroix hauled in a 65 and-a-half pound halibut at Race Rocks. Vince Granon was rewarded with 16 and 19 pounders.
On the weekend Bev Dabbyn netted a 15 pounder while Brian LaCroix and Kari Lindroos got a trio of halibut – 98, 42 and 32 pounds.
Checking in at Sunny Shores – Jesse Tremblay weighed a 26-pound fish while Justin Florel caught a 42-pound halibut right in the Sooke area.
Ben Heuber presented a 35-pounder, and Ed Hood managed to bring in fish of 30, 25 and 15 pounds.