August 18 Sooke Fishing Report
The fishing in Sooke continues to be hot and cold. For a few days, there was a good bite reported at Trap Shack and Possession Point, then it slowed down again. So, the report remains there are definitely fish out there to chase...with a combination of persistence and luck they are there for the catching!
The
Bite Me Derby
was held last weekend in Sooke. Bill West won it with a 39.9 lb Spring Salmon caught off Beechey Head. 93 fish were weighed in, 90 spring salmon, 2 coho, and 1 halibut. $1,500 raised for the
Sooke Salmon Enhancement Society
-- a very worthwhile cause for anyone interested in investing in the future of Sooke's salmon fishing!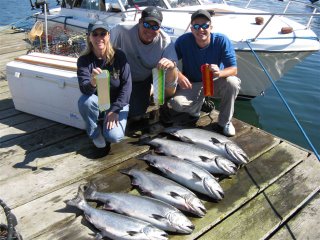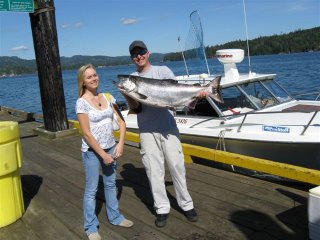 Mark Price sent in a report of a couple of good fishing trips for the Stoddard family from Palm City Florida. First day at Otter Point, 38, 20, 25, 20, 20, and 13, and then a 35 pound Chinook caught at Possession Point the next. That's Dylan holding up the 35 pounder, impressing his sister Leah.
Sonny Hong and family had a couple days of excellent crabbing off the Rotary Pier in Sooke Harbour...eight Dungeness keepers on day two. A pretty good day's work in the hot August sun.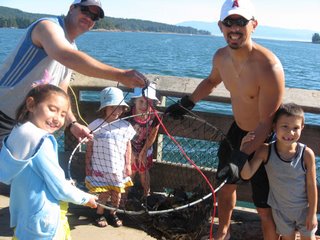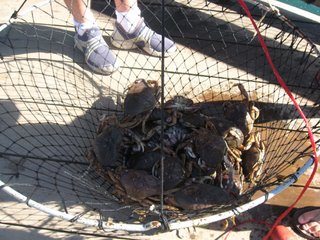 Good times to be had fishing Sooke's waters in August....get out there!