August 19 Sooke Fishing Report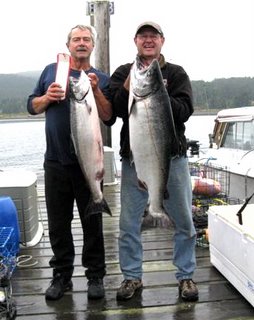 Neil from S
alty Towers Oceanfront Cottages
sent in this report today:
"
This morning, I had the pleasure of being a guest onboard Footloose Salmon Fishing Charters. Skipper Mark Price and I headed out at 7 AM on a short excursion to Secretary Island. With numerous bites over two and a quarter hours, we came home with a 21 pound Chinook and a 41 pound Chinook, both caught in the same spot about one hour apart. Both fish hit on the OKI Tackle red - chrome blade. I had the pleasure of bringing them in on an Islander reel and a light eleven foot rod.
"
Sidetrack Charters
headed to spots further west and came home with 7 nice springs!
A good day's fishing in Sooke.