August 21 Sooke Fishing Report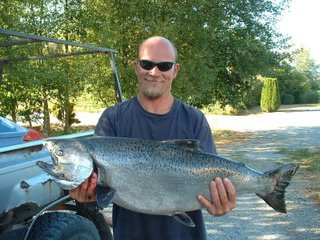 Reports from Sooke continue to be good. The hope is that maybe the recent rain will attract the big ones closer to shore.
Donovan Ray caught a 35 pounder yesterday, west of Sheringham.
No picture, so we'll have to take his word for it. ;-)

Here's a Donovan pic from the days gone by...


The Sooke News-Mirror reports Aaron Swanton caught a pair of 26 pounders. (photo courtesy of the News-Mirror)

Way to go Aaron!