Big Sooke Halibut!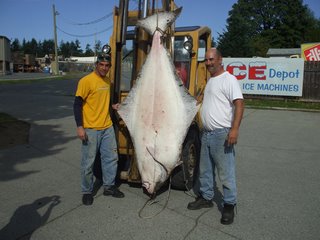 Randy Ruttan and Kirk Dodsan caught a 323 pound halibut on Sept.8th...here they are with their fish of a lifetime....caught near Sooke!
Certainly the biggest halibut of the year caught near Sooke, and possibly one of the largest ever caught by a recreational fisherman in the area.
Now that's a LOT of fish and chips!
(photo courtesy of fishtactics.com)