Nov 24 Sooke Fishing Report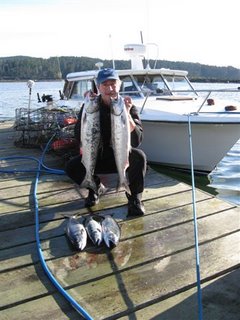 The winter spring fishing continues to be steady in Sooke. Mark from Footloose Charters sent in this report "
we were out today and got our limits of chinook ...the 2 largest around 12 lbs, and one chum. They were right out front of the Harbour mouth, caught on bait, 20 feet off the bottom".

The go to area continues to be from the Sooke Harbour Mouth west to the Trailer Park, fishing the bottom at 120-150 feet. Hootchies remain the lure of choice for most, with purple haze and glow colours reporting to be working -- but anchovies are always a good bet too.

The weather's been variable...one day blowing pretty good, others clear and cold, so you have to pick your spots, but all in all, there's fish to be caught and fun to be had. So get out there if you can!