January 26th Sooke Fishing Report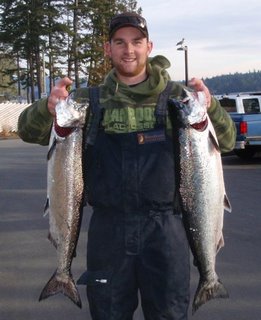 Some mixed reports over the past week, some productive days, some few and far between days, but still just enough hope to get you motivated to get out there.
Reports below from a couple of local Sooke guides fishing for fun on the weekend.
Ryan from
Fresh Fishin'
: "Fished Saturday from 10 till 11 in the morning off the bluffs in 140ft of water bouncing bottom with a "Chameleon" Coyote Spoon, 3ft behind a Super Betsy flasher. Caught the first fish trolling midway down the Sooke Bluffs towards the Tin Shed. 12 pounder. Then after landing that fish, I turned around and headed back to that spot where 5 minutes later, i had an awesome fight with a 16 pound spring.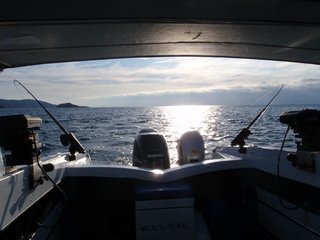 The 16 pounder was a white flesh fish. Still tastes the same to me. Sunday I was out at 930, by 10 30 I had about a 6 pounder that I released to get bigger...missed a couple hits...great sunny day".
Des of
Vicious Fishing
: "we caught 6 nice fish today, lost a 14 pounder to a seal, only thing we got back was a huge head."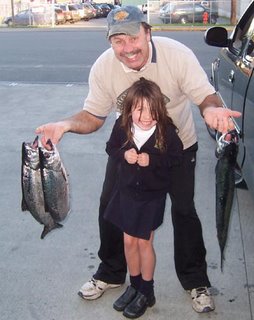 Towards Victoria, Don and Chelsea ("the Newfs") reported getting lucky with a couple of nice ones off Albert Head -- a 10 and 13 pounder. Way to go Newfs! Don sent in a picture from earlier in 2008.
Get out there and try you luck...the weather's fine, the sun is out, and there's fun to be had.
Good times!