Sooke salmon fishing, Sep 28
Sooke's salmon fishing continues to be pretty good for coho. Out in the deep water, 500' plus, there is pretty steady action. Many small shakers, and then a good number of decent sized coho -- up to 15 pounds. They are mostly wild, rather than hatchery, so most have to be thrown back...but as of Thursday (Oct 1), one wild coho per day can be retained.

The fish are moving around out there, each day different in location and depth. Most of the hookups are reported deep, 90-110 feet, though others are reporting hits up to 50 feet. Dark green hootchies, coyote spoons #4 or 5. Fast troll, 3.5-4 knots.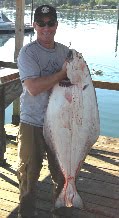 In Sooke Harbour, there's still lots of shore anglers trying for chum and coho from the banks of the Sooke River out to Billings Spit.


Please use care with all those salmon you throw back! Today's shaker is next year's trophy...and the wild ones are the parents of our future fun fishing. No point in conservation measures to protect them if you kill them in the release. Don't net them if they aren't a keeper, release them on the side of the boat by grabbing the hook with needlenose pliers or the gaff and turning upside down.

Here's a picture of a 40 pound halibut caught near Sooke this weekend...fishing solo and while cranking it up the orcas came through. Yikes! But landed it, and fish n chips tonight, tastes all the better when caught close to home.

Good luck out there!