November 9 Sooke Fishing Report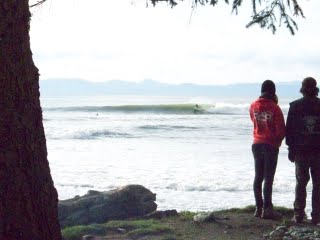 We haven't posted in quite a while...the "gone surfing" sign is up on the front window. :-)
But there's still lots of fishing going on in and around Sooke!
Salty Towers
reports that "some nice winter spring salmon are being caught out front of the Harbour mouth west towards Otter Point. This week has had some reports of fish well into the teens, up to 15 pounds. As is typical, they are usually caught right off the bottom in 130-150' depths, usually with hootchies -- something glow or purple haze are popular. There are an increasing number of boats anchoring up for halibut too, just off Sooke Bluffs....so that is an interesting possibility, bring home some nice white fish for the table, without having to go all the way to Swiftsure or Constance Bank."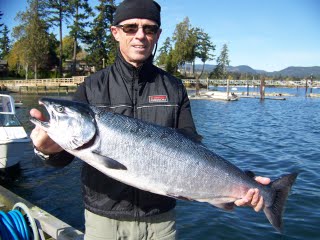 Here's a photo from the Salty Towers dock of a nice coho from October. Way to go Mike!
The reports lately seem to be showing the winter springs steadily increasing in size, as they fatten up on the abundant feed in Sooke's waters. It should be an excellent winter season, for those willing to brave the cold. Winter fishing around here can be a treat...less wind, no fog, no crowds, and surprisingly warm when the sun comes out...not to mention lots of salmon!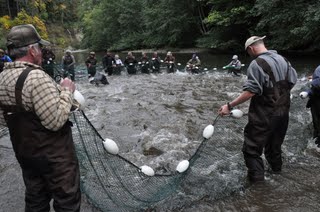 In other local news, the
Sooke Salmon Enhancement Society
gathered its broodstock a few weeks ago, and we are happy to report they got the full complement of Chinook and Coho eggs. After a few tough years, last year and this year's successes are a big relief. If you like fishing in Sooke, then there's no better cause for you to support than the hatchery! Visit their site and join up, volunteers are always needed. Or if you can't spend the time, then make a donation. Photos from
Jack Most Photography
.