January 1, 2010 Sooke Fishing Report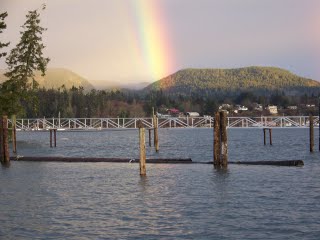 Happy New Year! Welcome to 2010.

The salmon fishing in Sooke continues to be steady. The winter spring salmon are mostly not all that big, but there's lots of them, so there's lots of action and still some tasty fish to take home for the table.

Most of the action in the past week has been towards Possession Point and Secretary Island, though good reports have come in from the Sooke Bluffs and all the way to Otter Point. Most anglers are using glow flashers with hootchies with some glow in them, though there's reports of anchovies and spoons too. It might not matter what you put down there....these feeder spring salmon are actively feeding, and if you put something food-like in front of them, they will bite at it.

Fishing with lighter gear this time of year makes for more fun, especially without the added drag of a flasher -- either with anchovies in a teaser head or a spoon.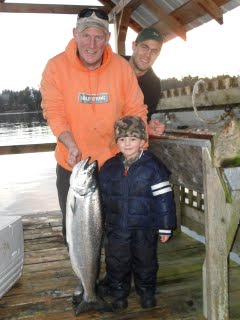 The salmon are generally found 10-20' off the bottom, mostly at 130-150' on the downrigger in 140-160' depth.

Rob Wilson provided a New Year's Eve report on the sportsfishingbc forum: "
Out yesterday off the harbour mouth to Secretary Island, lots of 20" class fish and the odd big one, we got lucky and got a 19lb, one that we didn't weigh that was in the 10-12 lb class on the fly rod and a couple 7-8lbers. All 120ft -140ft on the rigger in 120-160ft of water, all on bait today, purple haze and watermelon. Not sure it matters much though, Bulldog used Bug Eye flies the other day and they fished equal to the bait. Lots of fun on the fly rod, even those 20" are pulling line out.
"
The photo is the Wilson family affair...brother Terry, dad Mick, and son Aiden, with a shiny silver 19 pound chinook salmon....Sooke's finest, good day!

A few reports of small halibut caught off the Sooke Bluffs on the eve of the annual January closure to allow them to spawn. Halibut fishing is closed until further notice -- hopefully to open on January 31st as normal, but we'll see.

On a non-fishing note, a holiday hike in East Sooke Park produced the following pictures...nice to get some perspective from land now and then. You can access this viewpoint from Pike Road in East Sooke.

Good luck out there, and may your 2010 year be productive and fun!