Febuary means halibut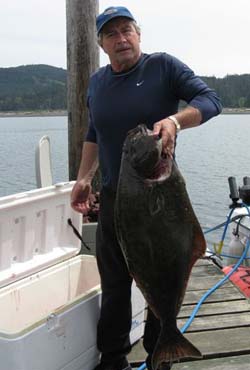 Canada's Department of Oceans and Fisheries have announced the
fishing regulations for halibut
for 2017.
Halibut fishing open February 1, 2017 until further notice.
The maximum head on length for halibut is 133 cm (Approx. 101 cm head off).
The daily limit for halibut is one (1).
The possession limit for halibut is two (2), only one of which may be greater than 83 cm, head-on (approx. 63 cm head off) in length.
The annual limit is six (6) halibut per licence holder, as set out on the 2016-2017 Tidal Waters Sport Fishing Licence.
All halibut retained by the licence holder shall be immediately recorded in ink on the 2016-2017 Tidal Waters Sport Fishing Licence. The area from which each halibut is caught and its length (cm) shall immediately be recorded on licence.
This is good news, as the halibut biomass is evaluated annually and there is always risk that recreational fishing will be curtailed or ever shut down. With similar fishing regulations to later year, it appears the halibut fishery is considered strong and sustainable.
These early months are some of the best halibut fishing of the year, as there are bigger ones around and no pesky dogfish. Victoria and Sooke see a lot of halibut fishing action from Feb to May or June, once people's attention switches to salmon fishing. Most success is by anchoring on a hot spot and fishing a spreader bar with a two pound ball and bait: salmon belly, herring, octopus being the most common. Put the gear down and wait a couple hours until the scent brings them in.
Don't even ask about tips for spots ... closely guarded secrets! And if you aren't confident anchoring, DO NOT DO IT ... as this is the easiest way to sink your boat and risk your life. No joke. If you want to learn to halibut fish, and safely anchor, consider getting out with a
local guide
, watch what they do, and ask lots of questions. Most are happy to help out a local newbie.
If you aren't a local, and are interested in halibut fishing, the many
Sooke and Victoria guides
will happily take you out for a fishing charter. Just watch for some nice weather and get out there!
The DFO website also provides rules for transporting and fileting your catch. It also provides a nice description of how to release the big mamas with minimum harm to these important breeders!
Excerpt here:
Release Halibut with Care
There are regulations in place that require all fish that are not retained, to be released back into the water from which they came immediately with the least amount of harm.
Halibut have a high survival rate and can withstand being caught and released. However, anglers should take care when handling halibut which are to be released. Releasing fish in the least harmful manner is a requirement by law. Here are some suggestions to assist anglers in catching and releasing halibut with care:
Avoid the use of stainless steel hooks. Should you have to consider cutting your line rather than removing a hook from a halibut that is deeply-hooked, standard steel hooks will rust away faster.
Use circle hooks as these have proven to hook halibut in the jaw or corner of the mouth. If you have to use J hooks pinch the barb to make unhooking easier.
Use heavy duty leader you can grab with a gloved hand. Halibut aren't leader shy and a heavy leader is easier and safer for you to get a hold of and will provide you with a secure grip and control of your catch.
Use gear designed to catch halibut and avoid incidental species.
Halibut of similar age classes and size tend to school together. If you are fishing in an area and catching mostly larger fish, try moving to a new area where smaller fish typically are found.
Do not overplay your catch. Bring your catch to the surface as quickly as possible.
If you are going to release a fish, release it in the water. If it is unsafe to easily remove the hook the safest measure to take is to cut the line. If you have boated your catch and are releasing it, avoid handling it by the tail alone or the gills when releasing.
Mark an area at the waterline of your boat that measures 83 cm and 133 cm so that it is easier to determine when a fish is greater than that length.
Construct a measuring gauge from wood, plastic or aluminum that has an end that you can butt against the halibut's tail and mark off the 83 cm and 133 cm lengths measured from the end of the gauge and use this to measure fish in the water.